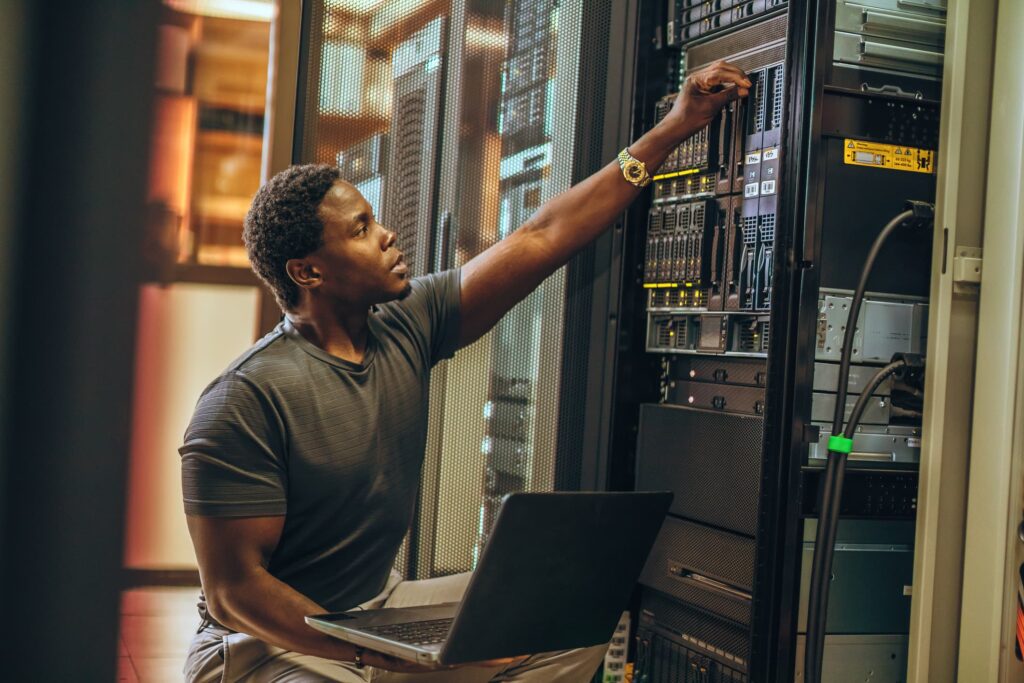 There's no doubt that Managed Service Providers (MSPs) have been on the rise in recent years. And with good reason.
Businesses that assess their network security amid today's changing digital landscape realize they need help. 
MSPs offer a comprehensive and cost-effective solution for businesses of all sizes that require IT support including data and network security. 
So, what does the future hold for MSPs? 
According to SkyQuest, the answer is big things. 
The technology consultant estimates that at least 60% of organizations will depend on Managed Services by the year 2025.
Additionally, SkyQuest shares that the global managed services market was valued at USD $179.33 billion in 2021, and it is anticipated to attain a value of USD $393.72 billion by 2028, at a CAGR of 11.82% over the forecast period 2022–2028.
But what's driving this growth? 
And what does it mean for businesses that are looking to partner with an MSP? 
The answers to these questions and more are below.
What is driving SMBs to outsource to MSPs?
There is undoubtedly an increasing complexity and sophistication of cyberthreats in today's market. Add that to the growing realization for most SMBs that they lack the in-house expertise and resources to effectively protect themselves from these threats. 
So, they began turning to MSPs, or Managed Service Providers, as the solution.
A Managed Service Provider acts as an extension of your team that specializes in data and network security. MSPs provide a variety of data and network security services to their clients, including things like firewall management, intrusion detection and prevention, virus and malware protection, and web filtering. 
Managed Service Providers work with businesses to create custom security solutions that fit their specific needs, offering a high level of expertise and peace of mind to their clients.
There are many reasons an SMB should partner with an MSP, including:
Expertise and Resources: MSPs have the background required to support your business's IT needs in this ever-changing landscape. Not only can they provide the latest in technology and services, they have the staff to support it.
Scalability: MSPs can grow their services to meet your business's increasing IT needs as SMBs add locations, expand offerings, and grow the company. With growth comes a need for continuity, proper documentation, onboarding support, and more. 
Flexibility: MSPs can be adaptable in how they deliver their services. They can customize their offerings to meet your specific needs, including ticketing systems, systems checks, and proper system monitoring.
Cost Savings: MSPs can save you money by providing cost-effective IT solutions to streamline processes while improving connectivity and system performance. A biggie: MSPs help SMBs avoid expensive downtime by proactively managing your IT infrastructure.
How MSPs are preparing for increased demand in 2023
As we enter a new year, Managed Service Providers are expecting a continued rise in demand for their services. And in order to be fully ready to take on the big changes in the world of data and network security, MSPs continue to monitor and prepare for:
Increased focus on data privacy and protection. 
With data breaches and phishing scams becoming more and more common, organizations are placing a greater emphasis on safeguarding their customer data. MSPs should be prepared to help their clients implement stronger security measures to keep their data safe.
Rise of AI and machine learning in cybersecurity. 
Artificial intelligence (AI) and machine learning are becoming increasingly important tools in the fight against cybercrime. MSPs need to be familiar with these technologies and how to use them to defend their clients' networks.
More sophisticated attacks.
As hackers become more sophisticated, their attacks are becoming more difficult to detect and defend against. MSPs need to stay ahead of the curve by keeping up with the latest threat intelligence so they can protect their clients' systems effectively.
Greater regulation around cybersecurity. 
With the introduction of GDPR and other regulations, organizations are facing stricter requirements when it comes to safeguarding customer data. MSPs need to be aware of these regulations and help their clients comply with them.
Growing demand for Managed Service Providers. 
As businesses become more aware of the importance of cyber security, they're turning to MSPs for help in protecting their systems and data. MSPs must be prepared to scale up without toning down security and support. 
How MSPs add value to your data and network security
Managed Service Providers offer a wide range of managed security services that can help small businesses keep their data and networks safe from attacks. 
By outsourcing these services to an MSP, small businesses can focus on their core competencies and leave the security of their data and networks in the hands of experts.
Consider that data and network security services can include things like intrusion detection and prevention, firewalls, anti-virus and anti-malware protection, and spam filtering. 
By working with an MSP, small businesses can ensure their data and networks are well protected against the latest threats. In addition, MSPs can provide ongoing monitoring and maintenance of security systems, which can help identify potential problems before they cause serious damage, something few SMBs can afford.
Dice Communications is proud to be a local-sized leader in the IT Managed Service Provider space offering clients a comprehensive suite of services. 
By working with us, you can be assured your technology needs are taken care of by a team with the time and expertise to deliver consistent connectivity, streamlined processes, cost-saving solutions, and more. 
We take a proactive approach to managing your technology, which means we also monitor and manage your systems to prevent any issues from arising before they cause a costly problem. 
This way, you and your team can focus on running your business, while we take care of keeping your technology up and running.
Prepare your SMB for a secure 2023
As we move into 2023, it's important for SMBs to prepare for a more secure future. Here are four ways you can get started:
Review your current security posture.
Take a network security assessment and get a closer look at your current security setup and determine the likelihood and impact of an attack on your business. Identify any areas that could use improvement, prioritizing which areas need the most attention. 
This may include updating your software and hardware, implementing new security measures, or increasing employee awareness of best practices. 
Organizations should typically run a network security check annually, though you could do them as often as every six months. 
Develop a security plan.
Based on your network security assessment, develop a comprehensive security plan that includes both short- and long-term goals. Involve all stakeholders in this process so everyone is aware of their roles and responsibilities when it comes to keeping the business safe.
Implement managed security services.
One of the best ways to shore up your security posture is to partner with a reputable Managed Service Provider (MSP) like Dice. MSPs can help you implement best practices, keep up with the latest threats, and respond quickly in the event of an incident.
As we move into the next year, it's clear that Managed Service Providers are going to play an even bigger role in the world of IT. With so many businesses now relying on technology to function, it's more important than ever to have a reliable and experienced team to manage your systems. 
If you lack the internal IT resources to boost your data and network security, talk to Dice Communications. We help SMBs create a customized approach to network security that protects you when it matters most. 
Improve your business's efficiency and bottom line when you partner with Dice Communications as your managed service provider in 2023.
We're here for you in the new year. Let us know how we can help you grow.