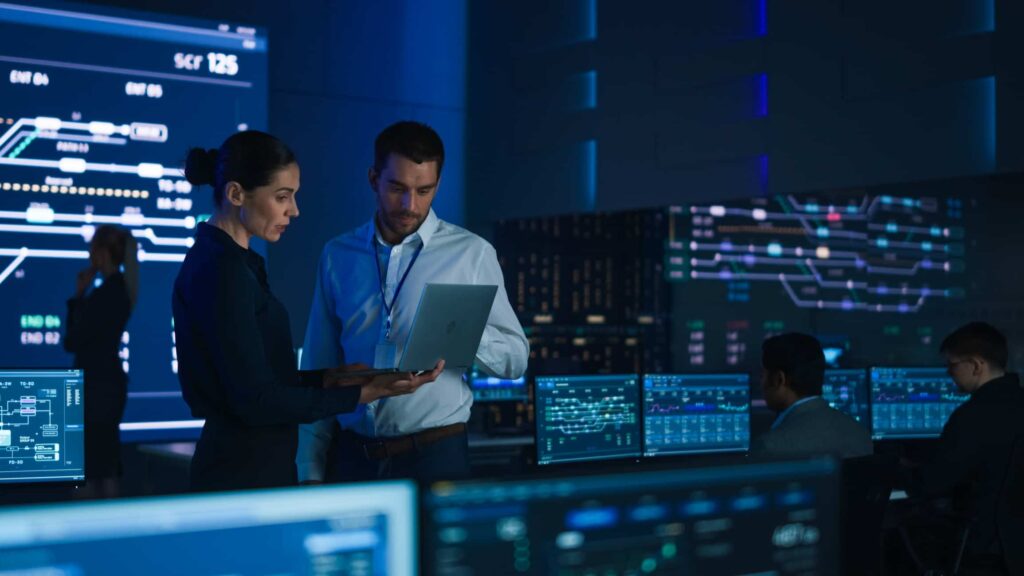 Has your organization suffered an attack against its network? Organizations spend millions remediating security issues, which are sadly becoming more common. 
That's why organizations need to invest in proper network security measures, like regular audits, to prevent future threats. While it might require upfront resources and time, it's a best practice to create a network security assessment checklist to aid in your audits. 
Learn why network security matters and how you can set up a network security audit checklist for your own organization.
Why Is Network Security Important? 
Network security is essential to preventing attacks against your organization. While you can't prevent every intrusion, robust network security solutions will help you: 
Save money

:

49%

of SMBs say that breaches cost them $100,000 or more. By investing in regular network security audits, your organization can prevent the stiff costs that come with remediating breaches.

Future-proof your organization

:

43%

of data breach victims were small businesses—and 60% of those organizations were forced to permanently close as a result. Network security solutions ensure your organization successfully operates for many years to come.

Secure sensitive data

: No matter your industry, your organization has sensitive data. Nefarious parties want to breach your network and steal, destroy,

or hold that data ransom

. But with network security solutions, organizations can better protect their data by proactively addressing their weaknesses. 
What Is a Network Security Audit?
There are so many threats trying to infiltrate your organization. Network security audits are essential to spotting weak points in your network and strengthening them against attacks. 
Organizations typically run network security audits once a year, but some organizations choose to do them every six months. During a network security audit, your IT team or a third-party auditor will analyze: 
Policies

Applications

Servers

Workstations

Firewalls

Password rules

Data access

User activity
… and anything else that comprises your system. The goal of a network security audit is to look for any risks or vulnerabilities in your network that need attention. Since security threats change all the time, regular audits help your organization stay safe and up-to-date. 
Small Business Network Security Assessment Checklist
SMBs are most at risk of cyberattacks. But small organizations need to make the most of their IT resources, which is why it's a good idea to create your own network security assessment checklist. This ensures that you don't miss critical components of your network and that you conduct consistent audits every time. 
Every network is different, but we recommend checking these seven components as part of your network assessment. 
Policies
Ensure that you have policies for: 
Acceptable use

Security

Training

Vendor agreements

BYOD

Internet access

Privacy
Add any policies that are missing. It's also critical to review your existing policies and update them for how you do business today. Be sure to redistribute any new or updated policies throughout the organization.
Procedures
Every network security assessment checklist should detail specific procedures for common scenarios. For example, what happens in the event of a data breach? Detail the steps your team should take in the event of several situations, like natural disasters or cyberattacks. These detailed playbooks will help your team save time and take the proper actions in the event of an emergency.
Security
How secure is your organization's network? Analyze components like: 
Firewall

: Is your firewall working correctly? Check its permissions, as well as its software for any updates. Check with your firewall vendor to make sure it's still configured correctly, too. 

Data

: What sensitive data do you own? Where is it stored? Who has access to it? Make sure that your organization limits who has access to data, keeping it strictly on a need-to-know basis. 

Physical security

: Is your physical location secure? Ensure there are no broken locks or card scanners in your server room. You should also ensure that employees don't leave passwords written on their desks or leave their workstations unlocked overnight.
Asset identification
What assets are present in your network? It's a best practice to identify all devices on your network, including: 
Computers

Printers

Servers

Software (and their versions)
Organizations should also look at BYOD devices. Ensure that employees aren't connecting unauthorized devices to the network to protect your organization.
Passwords
How does your team manage passwords? Make sure you have password requirements in place such as: 
Strong passwords

Unique passwords for each account

Two-factor authentication

Mandatory password updates
Organizations also commonly use password management solutions like LastPass or 1Password to protect users' various passwords and ensure that their credentials haven't been leaked to the dark web.
Activity logs
Is there suspicious activity? Are users following your policies and procedures? Always check your user activity logs. Regular audits ensure that there is no internal exploitation from employees. 
Backups
Are your backups up-to-date? It's a good idea to have backups that are both in the cloud as well as offline. Attackers have a harder time accessing these backups, but this only works if your organization remembers to do regular backups. 
Get a Free Network Security Audit Now
Once you complete your network security audit, work with your team to present the findings. Make a plan to address each issue in your network as soon as possible to prevent devastating breaches. 
In the world of network security, vigilance pays off. Network security assessment checklists help organizations conduct consistent audits regularly. If your organization needs a checklist, make sure it touches on these seven areas for a well-rounded understanding of your network security risks. 
However, we know it's hard to audit yourself internally, especially with limited resources. Get a free security audit now to see where you stand. Get in touch with Dice Communications to proactively protect your network. 
Learn More About Information Security
Security isn't a one-and-done solution. Understanding the risks your business faces is the first step to protecting it. Dice Security Awareness training helps you and your organization understand:
Technology and threats to information
Evolving systems and networks
Basic security measures


Download the training compiled by the experts in the field and learn more about how to protect your assets.
Download the Security Awareness Training