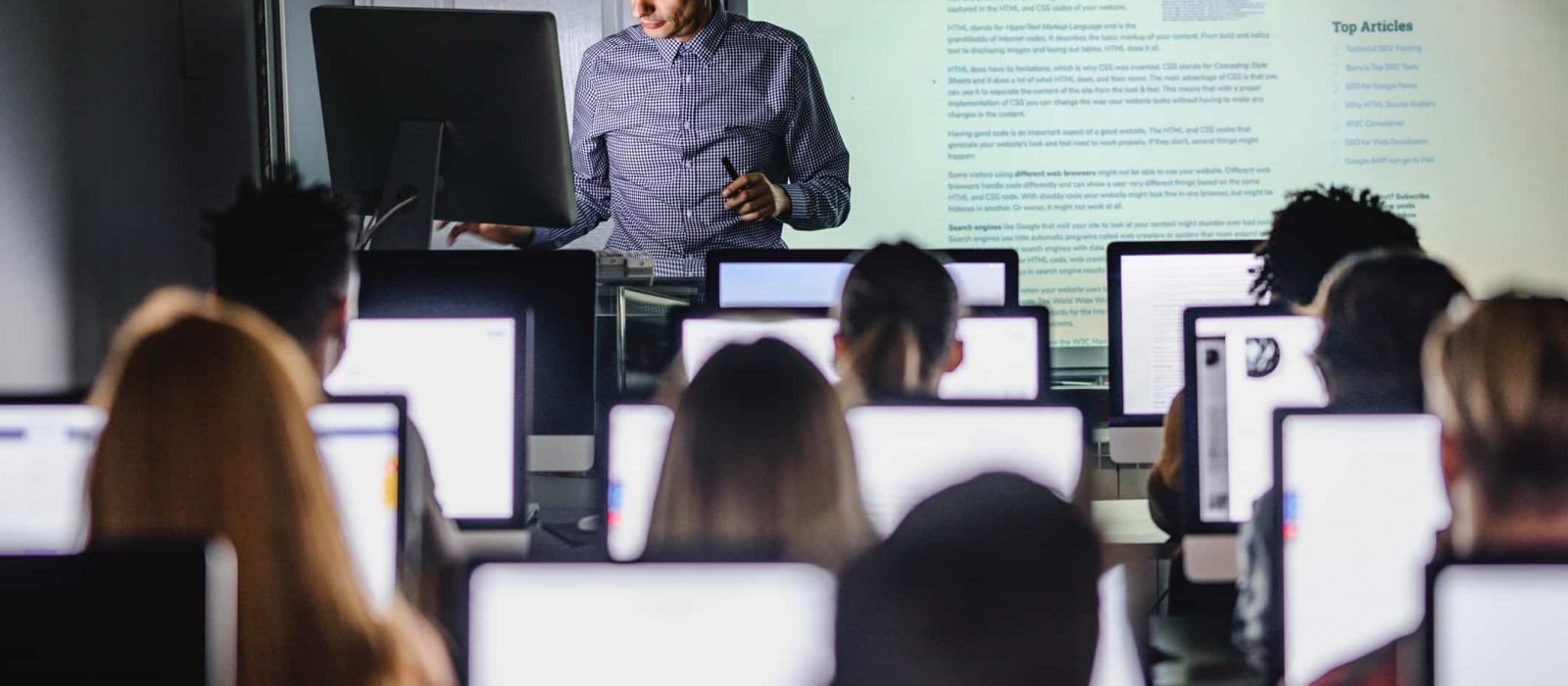 For teachers, there is no worse feeling than needing to review a lesson plan but hitting a remote server issue and not having access from home or spending hours logging in grades just to lose it all when the system crashes.
This is the struggle students and teachers face when cloud services are not a part of their school's technological strategy.
It's 2021, and our education system needs the benefits of cloud solutions. It's that simple.
Research shows that education-oriented cloud computing will reach a market value of $25 billion in 2021. That's precisely how valuable cloud computing in education can be!
Whether it be high schools, middle schools, or higher education institutions, the world has seen a major uptick in the reliance on cloud storage solutions, and there's a reason why.
These technological services offer the education sector a ridiculously long list of benefits, from disaster recovery all the way to cost effective technological backup solutions. Students and teachers can become ever-so interconnected with the power of accessibility and security that cloud solutions provide.
Who wouldn't want that?!
Here are the top 5 reasons the education sector needs to move to a cloud-based solution ASAP!
1. It's Cost Efficient
There is no doubt that cloud storage solutions for schools are highly cost effective.
Just think of it like this. When teachers and students have access to resources via cloud solutions, there is no longer a need to spend obnoxious amounts of money on physical textbooks, outdated learning applications, software programs, and expensive technical hardware. Not only that, but having a cloud-based solution eliminates the need to pay people, hardware, and programs to maintain an on-site server.
As a plus, providers can lower the cost too by streamlining the enrollment and assignment tracking processes. Cloud computing is a service that allows you to pay as you go, so you experience the major benefits while paying at intervals. Yep! Easy, right?
 2. It's Secure
Let's be honest. No school wants to be cyberattacked or hacked. Given that schools are now the main target for these cyber-attacks, with cloud computing you can feel reassured that your school is using safe and secure data storage through features like a VPN and automatic encryption of outgoing data.
Unfortunately, a lot of schools and educational institutions don't know how to assess their risk levels. Once you've done so, switching to the cloud will give you data backups and quick responses to any cyber security threats your school may face.
When all is said and done, investing in cloud storage solutions will save you the headache of worrying who is getting a hold of your data and where it's going. Bye, bye cyberattacks and hello privacy!
3. It's Accessible to All
Perhaps one of the most attractive benefits of cloud solutions is accessibility. Don't you just love the idea of being able to access documents miles and miles away from the on-site location?
The implementation of secure cloud systems has completely torn down any time and location barriers that were present before. Teachers no longer have to wait until getting to the office to access files. Teachers no longer have to use the school computer to view that study guide they so desperately need.
Moving to cloud services has made the impossible possible. Students can literally finish high school at home. College students can go get that diploma from the comfort of their own home. None of this would be possible without the widespread use of cloud solutions for schools and higher education institutions.
Now, teachers and students can do anything from anywhere at any time.
4. It's Easier to Update School Materials
Do you really want to be using a history textbook written all the way back in 1972? Probably not! Nowadays, one of the best ways to teach students diverse material is always providing updated, new, and relevant information as the times change.
Unfortunately, the reality is that physical textbooks can't provide that anymore. A lot of these print materials are anywhere from 7 to 15 years old, and schools simply don't have the budget to pay for new ones. What's the solution then? Cloud-based storage. Implementing cloud systems in education makes life for teachers and students just that much easier. Informational materials can be updated and brought back to life with the click of a button. Students and teachers no longer have to use old and outdated textbooks for their education.
It's no longer a nuisance to have to use old materials because cloud storage solutions do all the work for you by keeping things updated. It's straight-forward, simple, and just too good to pass up!
5. It's Scalable
It doesn't matter if you go to a school of 400 students, 4,000 students, or 40,000 students. Cloud computing is flexible!
One of the most amazing features of cloud-based solutions is its crazy ability to adjust to a whole heap of conditions, sizes, or circumstances.
No matter how many users of a certain storage system there are, cloud solutions are easily able to adjust and grow based on the different traffic and user peaks that may be occurring.
These technology systems literally handle everything for the schools. There's no need to cap the amount of users. There's no need to control or monitor who accesses which applications. The cloud can juggle a large number of students at one time while also providing real-time feedback. Talk about a tech powerhouse.
What Should You Do Now?
So, you might still be thinking to yourself: Now what?
At Dice Communications, we want to help you succeed by sharing our extensive expertise in the education sector. From finding the right security solution for you all the way to evaluating your current IT strategy, our goal is to be the backbone behind the stability and security of the education world.
Now is the time to kickstart your way towards a more elevated and sophisticated school system. Take the plunge. Invest in your school, your business, yourself. Dive into the cloud world now in order to experience the benefits later.
Just do it! You, your students and teachers, and your community will be thanking you very soon!
Dice Communications Services
Our enterprise offers free and paid consultations for evaluating your current IT strategies, security risks, as well as other cloud communication solutions.
With Dice's effective, holistic, and affordable expertise, your school, business, or organization will reach its safest, most secure level yet. Don't wait to reach success, efficiency, and security. Go for the gold and you'll have no regrets!
It's time to find the right solution for you
Get in touch with Dice Communications now.