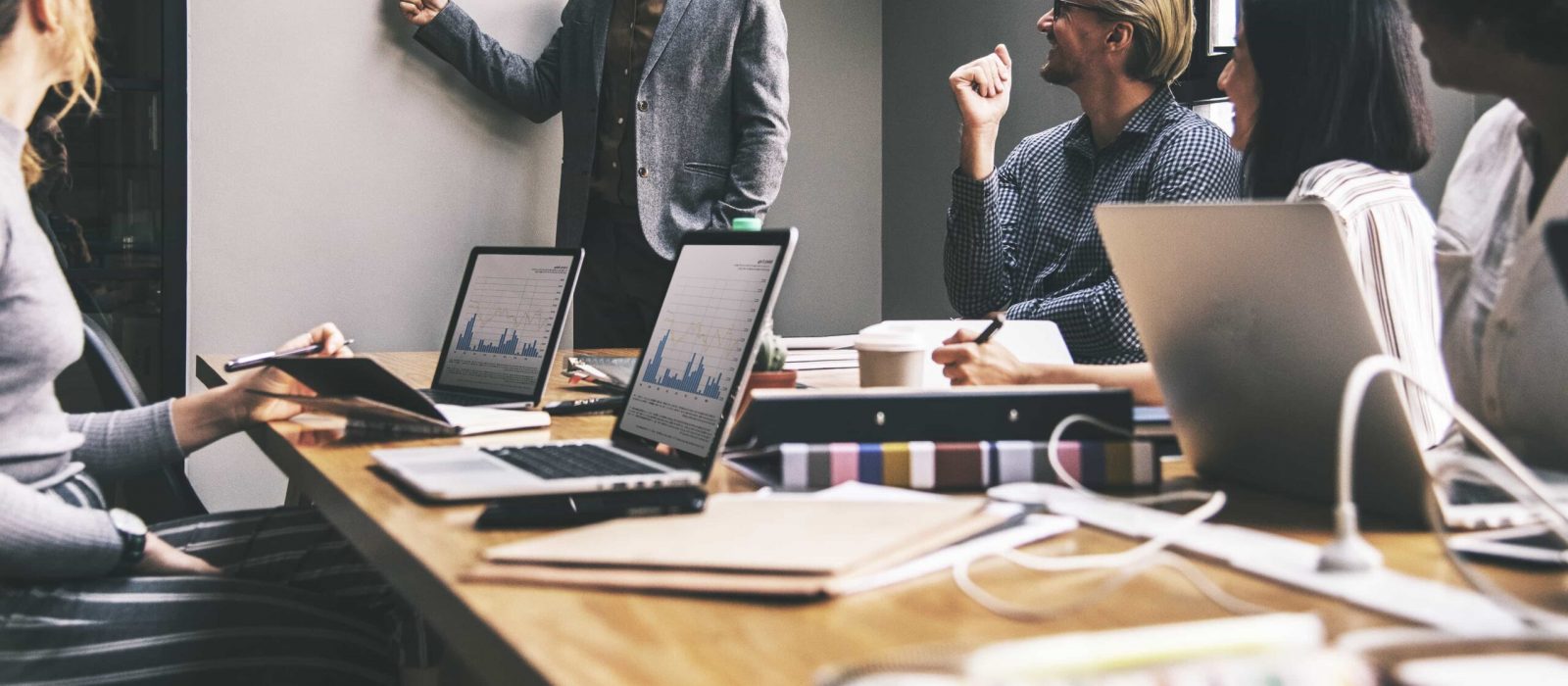 Analog business phone systems aren't the future. You need to move to the cloud to actualize cost reductions, time savings, and a better user experience. In fact, 52% of enterprises grew after moving to the cloud.

Whether you work in the public sector or as a private business, you need to upgrade your analog phone system to the cloud for five reasons.
1 – Securely work from anywhere
As we learned during the pandemic, remote work is a must to keep your employees safe. It's also an important measure for cutting your operational costs and serving customers in a more efficient, digital-first way.
Analog phone systems just can't compete in an age of remote work. How is your system functioning without a team in the office? Analog systems can cause a lot of frustration for your employees, customers, patients, and constituents. Instead of relying on outdated and unreliable communications systems to move critical information through your business, move to the cloud.
Since 99% of workers intend to work remotely for at least a portion of their job, it's clear that your organization needs to make the switch to stay competitive and retain talent.
Cloud communication solutions enable your team to not only work from anywhere, but to be productive from anywhere. For example, Dice Communications creates a digital workspace that allows employees to securely answer the phone from any device.
With a readymade directory, video chat options, and dual ringing settings, your employees can manage business calls wherever they are. And with your system in the cloud, you can route phone calls to any employee or customer with an internet connection.
2 – Simplify WFH tools
You need cloud communication-based solutions because they're a boon to more than your phone system: the cloud offers much more than infrastructure for telephony.
Your WFH team likely needs a handful of tools to collaborate online. But is your team using these tools correctly? Are they implementing your processes with fidelity?
When you upgrade your business communications to the cloud, you have the ability to communicate as a team from one central dashboard. Dice Communications' setup allows organizations to do better business from anywhere with features such as:
A solid cloud communications dashboard that allows your team to collaborate on documents in real-time. It can even require your team to follow certain workflows for more efficient project management.
Access to analytics for each user and team, making remote management much easier.

Advanced security solutions to keep all of your teams' messages secure, regardless of where they are or the device they're using.

A shared calendar directory gives you an instant view of employees' availability.

Recordings, screen shares, and remote control capabilities to better support your remote team and improve remote meetings.
Analog solutions just can't compete when it comes to efficient WFH workflows. Don't move forward with a piecemeal solution: switching to the cloud can significantly improve employee productivity.
3 – Give customers the service they expect
Are long hold times, multiple calls, and low productivity holding up your organization?
Cloud communications is a must for any business that wants to improve its customer experience. In fact, 45% of enterprises move to a cloud solution because it offers a better customer experience.
Cloud communication solutions will enable your team to assist more customers, work more efficiently, and improve the overall customer experience with features such as:
Webchat and video chat, so customers can communicate with you via the most convenient channels.

A 24/7 greeting solution that gives customers access to quick information and reduces unnecessary calls.

Intelligent call routing so a customer's call gets to the right department, saving time for both the customer and your team.

Smart tools help your team manage more calls.

Call recording, messaging, and other tools help your employees spend less time on irrelevant calls and more time helping customers.


If you're an SMB, you need cloud computing solutions tailored to your small business to boost customer retention, without expanding your footprint. When you upgrade your business communications to the cloud, you'll deliver more reliable service that your customers will love. This can translate into a 20 – 30% increase in customer satisfaction, as well as economic gains up to 50%.
4 – Personalize your organization's outreach
Today, 63% of customers expect a personalized experience, and cloud-based solutions can give your team the tools to meet customers' expectations.
A cloud communications system can:
Display important context for each customer interaction, including the customer's name and any previous interactions with your company.

Integrate CRM data with your call solution, giving employees quick context for every call.

Avoid misdials by adding one-click call-back features to your employee dashboard.

Resolve customer issues faster thanks to features like a backend agent live chat where they can do secure file sharing.


5 – Enable Bring Your Own Device (BYOD) Policies
51% of US employees use their personal cell phones for work. You may likely feel pressured to give employees the freedom of mobile-first work, but you need to secure your infrastructure, too.
Traditional phone systems might be a secure on-premise solution, but they lack the flexibility and efficiency today's mobile-first workforce demands.
Cloud communication-based solutions allow your employees to use the devices they already have without compromising on security. Through permission-based mobile apps, you can provide employees access to voicemail, email, live chat, file sharing, and more, on any device.
71% of organizations say moving to the cloud made their workforce more efficient, and that includes enabling BYOD work. Cloud communications solutions give your organization the flexibility and efficiency of mobile-first work without compromising your security—it's truly the best of both worlds.
Embrace cloud communication solutions
Cloud communications has so many benefits for your organization. Simplify, secure, and streamline your business with a powerful cloud communications solution tailored to your organization's exact needs.
Fortunately, it's never been easier to enjoy the convenience of the cloud. Rely on Dice Communications' expert team to design a custom cloud communications solution for your business. We help your team understand the importance of cloud communications, as well as strategize your move to the cloud. It's time to start your migration: get in touch with Dice Communications now.
It's time to start your migration
Get in touch with Dice Communications now.