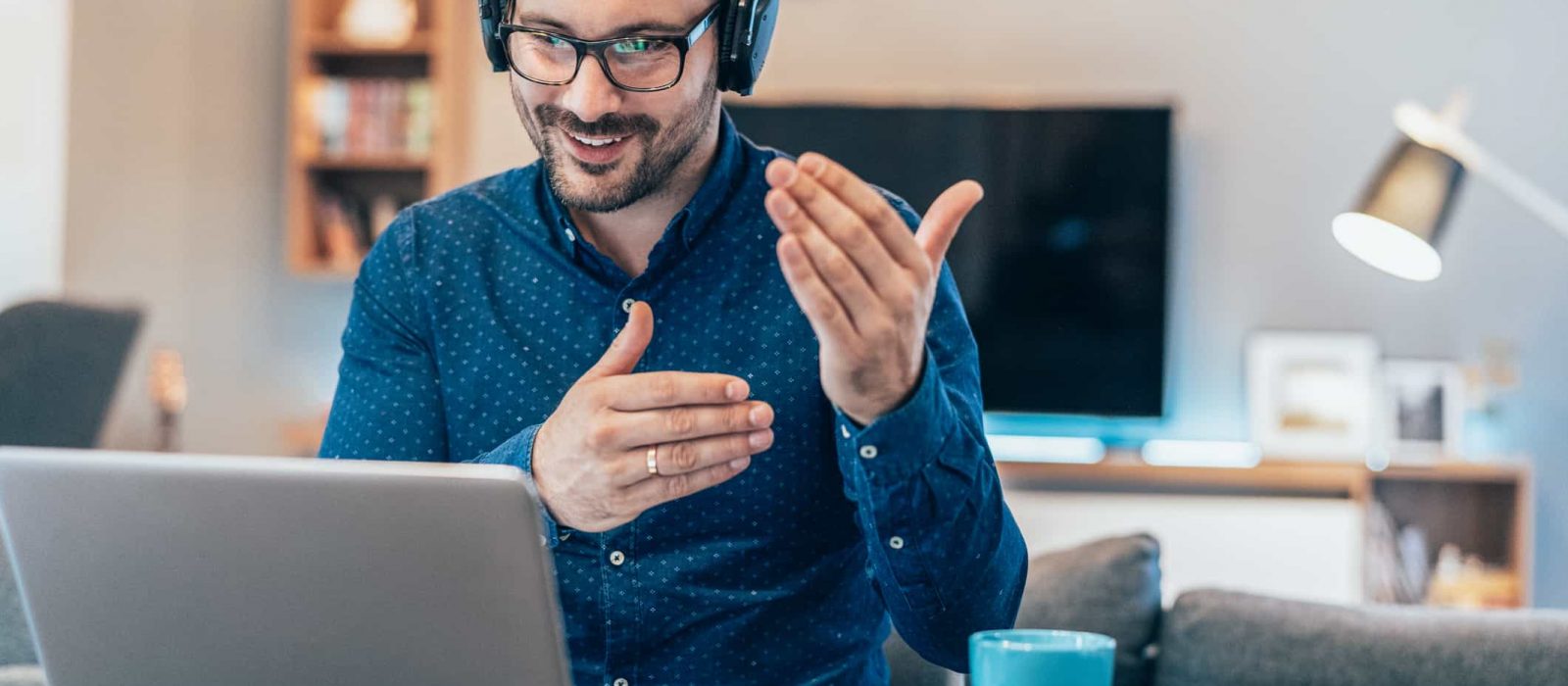 The pandemic forced thousands of businesses to pivot to remote work almost overnight. Although some offices are returning to in-person operations, many are choosing to embrace the new reality of remote-first work. 
A remote office is a big perk for your employees and it can even reduce the costs of running a physical office. But remote work still comes with challenges. By 2025, our workplaces will rely even more heavily on technology to fill in those gaps. 
Communication is clearly a must for any business, but it's essential for remote operations. VoIP is a smart, modern, and affordable solution for communicating in an era of distributed work. Understand how VoIP works, why it's mission-critical for your business, and 5 ways it can optimize your business.
How does VoIP work? 
Voice over Internet Protocol, or VoIP, is an integrated communications system. It's a combination of both software and hardware that allows your team to make phone calls over the internet. 
As long as you have high-speed internet, VoIP allows you to digitize your voice and send it to a receiver over the internet instead of through a telephone provider. Unlike an office phone system, there's no need to run copper cabling through your office to set up VoIP. This setup gives you the freedom to make high-definition calls from your IP address, which gives you plenty of extra features that you can't get with analog phones, including: 
Emailed voicemail recordings and transcripts. 

Intelligent call routing. 

Call analytics.

Sentiment analysis.

Video conferencing.

Screen sharing.

Call forwarding.

Voice-to-text.

On-demand call recording.

 
If it's time to upgrade your business's communications systems, VoIP is a solid option that keeps your team productive. 
The importance of a VoIP remote office system
VoIP is about much more than making phone calls. It integrates all of your communications so your team does business faster and better. A VoIP remote office system helps businesses: 
Support remote work

:

61%

of employees want to work fully remote. Because employees who work remotely tend to be

24%

more productive, remote work is a win-win for both managers and employees. However, the business needs to support remote work with smarter tools like VoIP. VoIP allows your team to use their cell phones for work calls without giving out their personal phone number. Instead of chaining themselves to a desk, your employees can embrace working on the go.

Improve productivity

: Has a power outage ever shut down your office phone system? Downtime costs you valuable productivity, and VoIP ensures your system stays online no matter what. VoIP keeps your team moving with an organized, redundant system based in the cloud that's accessible any place, any time.

Be more competitive

: Small businesses get a lot of mileage out of VoIP. In fact, it frees up your resources so you can compete against larger enterprises. Give customers a personalized experience without sacrificing your employees' productivity. VoIP allows you to personalize greetings, intelligently route calls, and take on a higher call volume with the same number of employees. It's no wonder that

82%

of businesses save money when they move to VoIP
.
5 Benefits Of A VoIP Phone System For Remote Workers 
It's time to upgrade your remote setup, but you're likely considering several options. What's the best solution for your team? 
VoIP is the clear winner when it comes to superior phone setups. In fact, 36% of businesses rely on VoIP for communications, compared to 24% that use POTS and 8% that use cellular.
Aside from the fact that VoIP can reduce phone costs by as much as 50%, businesses enjoy 5 benefits when they switch to a VoIP phone system for remote workers. 
1 – Create scalable, fast phone systems
Traditional phone systems require expensive hardware and time-consuming setups every time you add an employee. That's time and money that your technology team just can't afford to waste on simple tasks. 
VoIP streamlines this process, enabling you to scale your system as quickly as you need. Because it's based in the cloud and not in clunky hardware, you can add new users with the click of a button. With one flat rate per user, it's easy to scale up or down with VoIP so you get a right-sized solution for your business. 
2 – Enable location-independent work
VoIP allows you to keep your existing phone hardware if you want it, but it's an easy way to quickly set up a remote office phone system, too. VoIP means your team can answer video chats, voice-to-text emails, and more as long as they have internet access. This technology allows you to have a truly location-independent business that keeps your team connected, no matter what. 
3 – Integrate with your CRM
Your customer relationship management tool (CRM) contains a goldmine of customer data. Instead of letting that information go to waste, you can reduce human error and improve the customer experience with VoIP. 
VoIP connects with your CRM, which gives your employees more context on every phone call. They can see each customer's needs, call history, subscription status, and more before your team even speaks to the customer. The system will even auto-dial directly from the CRM so there's no risk of dialing the wrong number. 
4 – Monitor your remote office phone system metrics
Employers often worry about remote employee productivity. After all, will your team complete their work without physical oversight? 
Instead of asking your team to come back into the office, you can rely on VoIP metrics to understand your team's performance. Prove your team is taking care of business with VoIP metrics like: 
Missed calls

Call volume

Availability 
A VoIP system records calls and reports data back to you for easy analysis. That's why Dice Communications creates a secure VoIP dashboard that gives you secure control over your setup. 
5 – Support managers with business intelligence
Do you want to run a data-driven business? VoIP collects essential data and compiles it in one place for your leadership team to review. Instead of asking your management team to blindly make decisions on employees, expenses, and other critical factors, a VoIP system provides critical data for better decision-making. 
Invest in a VoIP remote office phone system
VoIP is clearly gaining steam as an integrated communications solution: it will be worth $194.5 billion globally by 2024. Scale your business more quickly, support remote work, and boost organizational productivity with a smart VoIP solution. 
Dice Communications helps businesses get the most out of the communication systems so you get the greatest return on your investment. Our IT experts help your business improve operations with the right communication tools, like VoIP. See the Dice difference for yourself: start your free 30-day VoIP trial now.