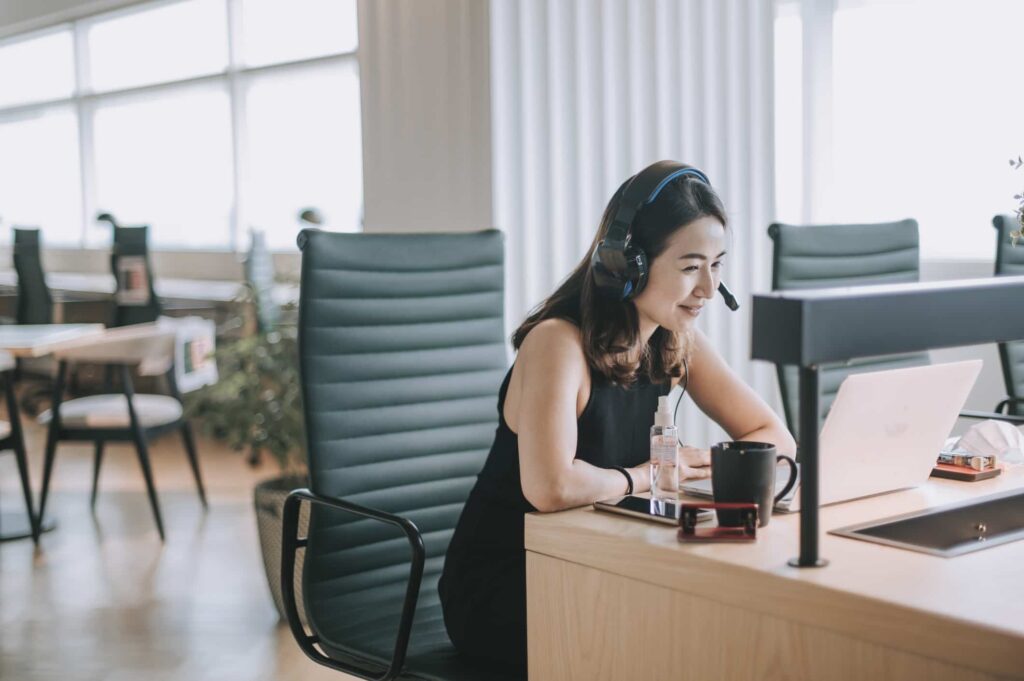 Call center management is difficult. Thin margins and stiff competition mean business leaders have to push and innovate to keep their call center profitable. The best way to make your call center more efficient is to move away from hardwired technology, like landline phones, and toward cloud solutions like VoIP. 
Dated on-premise solutions are expensive and inefficient. See how a VoIP call center has the potential to improve productivity, reduce costs, and improve the overall operations of your call center. 
What is a VoIP business phone system? 
Your business invests in a call center to serve your customers and increase revenue. However, your call center agents won't be successful without the proper tools. If you want to differentiate on customer service, cloud-based solutions like VoIP are essential. 
VoIP stands for "voice over internet protocol." This cloud technology allows your agents and employees to make phone calls over the internet instead of via landlines. Unlike landlines, VoIP transmits voice data over the internet and typically doesn't have limits or minutes.
The only potential issue with VoIP solutions is that they rely on the internet to function. Your call center must have a high-quality internet connection if you want to give customers a better experience. You should also have strong backup solutions in the event your wifi goes down.
However, if your organization has reliable high-speed internet, VoIP is a next-generation solution that can fit just about any business need. Implemented well, cloud communication will allow your business to operate on a 24/7 schedule in a work-from-anywhere environment. 
Advantages of VoIP for business
Although many businesses use VoIP, it's particularly valuable for call centers. Organizations that switch from landlines to VoIP enjoy 5 significant benefits in terms of productivity, costs, and customer experience. 
1 – Optimize costs
Landlines require wiring and physical infrastructure to operate correctly. VoIP, on the other hand, doesn't require significant infrastructure and allows your team to make unlimited calls. This can lead to significant savings almost immediately.
VoIP is usually priced at a per-user subscription service, so your organization only pays for what it needs. Feel free to change your subscription as needed depending on how you want to manage your business. 
VoIP is also more affordable because it doesn't age out, unlike hardwired connections. There's no need to update software or maintain equipment, which leads to lower operating costs over time. 
2 – Enjoy greater flexibility
Cloud communications allow your organization to respond to changes in your industry, product, and customer preferences more quickly. You have the freedom to easily add new technologies or processes as your business changes, which can make your organization more agile. Instead of making a significant investment in hardwired landlines that will age out, you can keep up with the demands of modern business with VoIP.
3 – Improve productivity
Technology specialists often struggle to manage competing priorities and needs within their organization. But with VoIP, you can enhance productivity across your organization without the growing pains. 
VoIP gives your business the power to enhance team productivity in the form of: 
Monitoring and KPI dashboards for your team as a whole, as well as on an individual level. 

Remote-first work that allows you to hire the best agents from across the globe. 

BYOD policies to optimize equipment costs and agent onboarding. 

Barge-in features where supervisors can quickly join agent calls as needed. 
4 – Give customers a better experience
90% of consumers say that customer service is the primary reason they stay with a brand. In a world where your business needs a competitive edge, VoIP empowers your team to deliver a world-class customer experience. 
VoIP improves the call center experience with features such as: 
Intelligent call routing and conditional routing. 

Near 100% uptime, thanks to cloud backups. 

Queue prioritization. 

Customized greetings. 
VoIP frees up your internal resources, too. Instead of worrying about on-site infrastructure and the costs that come with it, your team can devote more resources to improving the customer experience. 
5 – Ease of use
Innovation is a must for your organization to thrive, but technology still needs to be simple to use. If it's too complicated, it's unlikely that your team will adopt a new technology. 
Fortunately, VoIP is known for its ease of use, especially for people who aren't tech-savvy. VoIP is faster to deploy and manage than a traditional phone landline. Simply install a program, plug in a jack, and start making calls. 
VoIP's ease of use makes it much simpler to manage your organization's cloud communications: 
Consistency

: Set up the same VoIP system at all of your call center locations. VoIP will also allow each call center manager to customize their settings as needed to serve customers. 

Integrations

: Can your landline integrate with your CRM? VoIP is based in the cloud, which means it can intelligently connect with your accounting tools, email, CRM, and much more. 

Easy updates

: If your organization needs to change its phone system later down the line, VoIP makes it quick and affordable to roll out these changes. There's no need to maintain or upgrade equipment, either, which makes VoIP a boon to your IT department. 
How can Dice help?
VoIP is a technology that evolves with your business. As your organization grows, you have the freedom to customize your plan for a right-sized solution that gives customers exactly what they need. When you need to increase revenue and deepen customer relationships, VoIP is the answer. 
Organizations of all sizes are switching to always-on call center technology like VoIP. Dice helps small businesses, health care providers, K-12, universities, and more maximize their communications by moving to VoIP. 
See the Dice difference for yourself. Try 5 phones free for 30 days.