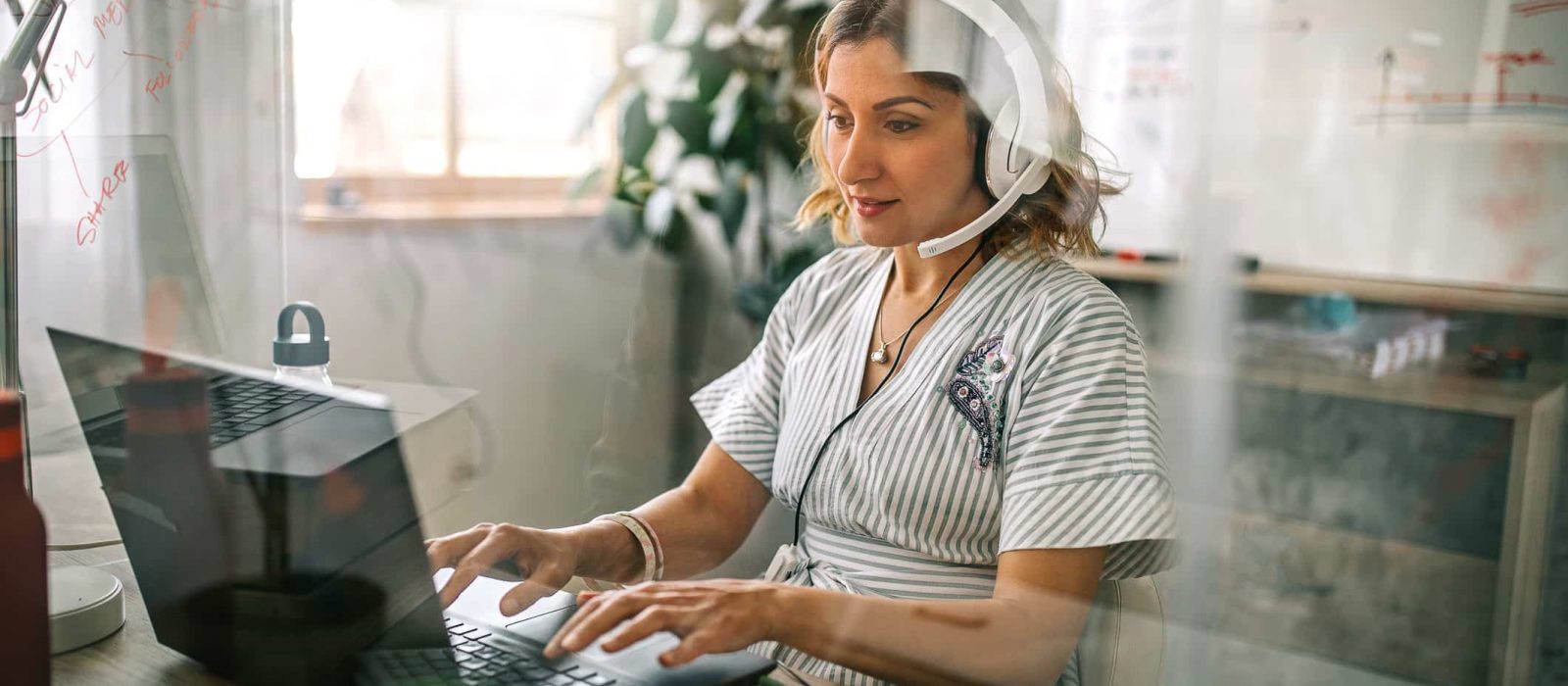 Your team is working in a remote, digital age where productivity happens on the go, on the couch, and around the clock. In a 24/7 world, your organization is expected to keep pace with your employees, patients, students, and countless other stakeholders who expect safe, flexible technology.
While digital transformation certainly has its benefits, it comes with plenty of dangers. Malware increased nearly 4X in 2020 alone and 80% of IT leaders say their organizations are insufficiently protected from cyber threats. Even if your IT team is large enough to include cybersecurity experts, you need to monitor your infrastructure 24/7/365 to proactively address threats.
Most organizations can't afford a 24/7 team of IT professionals to monitor their infrastructure. Fortunately, technology like remote monitoring and management can support your organization's transformation efforts without stretching your team too thin. See how remote monitoring and management (RMM) services work and the 5 ways they can benefit your team.
What are remote monitoring and management services?
With RMM, there's no need to manage your IT needs at a physical location. RMM allows for more efficient remote IT management, even for small businesses. Remote monitoring and management digitizes your IT support so you can receive ongoing monitoring, maintenance, and management from anywhere.
Instead of trying to handle your IT in-house, RMM allows you to outsource your IT to an always-on team for real-time management. With RMM, you can manage multiple endpoints in one console, detect when new devices join the network, and more. It's a much more efficient way to secure your organization while directing your internal IT resources to more mission-critical tasks.
5 R
emote Monitoring and Management (
RMM) benefits for businesses
Not sure how to use RMM for small businesses? No matter its size, every organization can enjoy these 5 benefits of RMM.
1. Real-time monitoring and alerts
Threats don't stop at 5 PM. RMM benefits businesses because it offers 24/7, always-on analyses. There's no need to hire expensive off-hours IT staff with an RMM solution because it can address serious problems no matter when they happen.
Providers like Dice will send you real-time alerts that lead to faster resolutions. And because the entire system is digitized, resolution can usually happen remotely.
2. Stay online when it matters
Unexpected downtime gives your customers a bad experience. It also means you're wasting your employees' time and losing hours of productivity.
Fortunately, remote monitoring and management prevents downtime from the start. This solution detects problems before they lead to a system-wide failure and even automates resolution so you can keep moving.
Aside from preventing downtime, RMM benefits your team because it opens the door to mobile-first work. You can use a thin client to store everything in one centralized server and give each employee a remote desktop. Because RMM constantly monitors your infrastructure for weaknesses, you can enjoy the convenience of mobile work without the security concerns.
3. Improve your security
As you digitize your team's workflow, you need to lock down each endpoint. Most cyberattacks target small businesses, but government, schools, and healthcare organizations also need to lock down their data. Your organization could lose $1.52 million in business from a single data breach, so the consequences of lukewarm security are serious.
Monitoring and management services prevent security headaches by locking down your infrastructure. RMM benefits your security posture by:
Managing passwords

Creating a distributed firewall.

Automatically patching.

Identifying out-of-warranty machines.

Flagging abnormal behavior.

Limiting access on a per-user basis.
Don't wait for your IT team to manually check for security risks. RMM proactively looks for threats and addresses them as they pop up. With more threats testing your systems every day, you can trust your monitoring and management services to prevent leaks, breaches, and exploitation.
4. Be more proactive
The best IT strategy doesn't react to disasters: it plans proactively for threats on the horizon. Maintenance is a key part of being more proactive with your IT, but it can be a huge headache for your internal team. Manually updating software and checking your system's health is a time-consuming and low-value task when your internal team has better things to do.
Remote monitoring and management handles maintenance on your behalf—and remotely, no less. RMM gives administrators the ability to:
Install software.

Update devices as soon as an update is available.

Conduct automatic system health checks.


RMM ensures that your endpoints are up-to-date and healthy with automated updates that make remote IT management a breeze.
5. Save money
Your organization is already spending thousands of dollars on your IT infrastructure. It's not only the upfront cost of hardware and software, but the ongoing costs you'll pay for maintenance and replacements, too. From hardware to software subscriptions to IT salaries, you need to make the most with your existing resources.
Instead of shouldering the financial burden yourself, you can simplify everything with remote monitoring and management. A provider like Dice offers RMM at a predictable, flat monthly rate so you don't have to worry about varying costs over time.
RMM also saves you money on hiring and travel. It takes an immense amount of time to hire qualified IT professionals, but outsourcing RMM helps you enjoy the benefit of another team member without managing them. RMM also means there's little need to dispatch on-site technicians because most repairs can be completed remotely.
Remote IT management made easy
Glitches, security issues, and rising costs make it difficult for your organization to get ahead. Fortunately, IT departments can avoid the headaches and hassles of IT management with remote monitoring and management services. Outsource RMM to an expert team to proactively address issues before they cause a system-wide failure.
Whether you run a large network for a Fortune 500 company or a small network for a local school, RMM makes it easier to run a streamlined, productive organization with fewer resources. See how Dice Communications helps organizations run smarter and safer with remote monitoring and management.