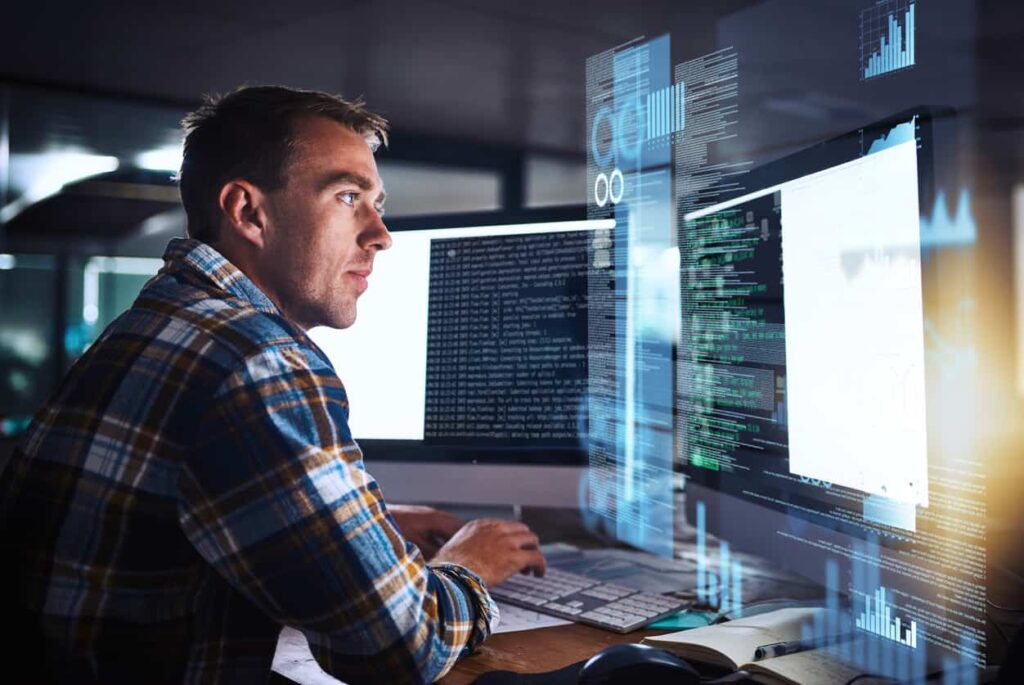 Information technology (IT) fuels everything you do. From downloading files to sending emails to sharing reports, every function in your business relies on having a secure and reliable IT infrastructure.
Do you have a strategy in place for how your IT operates? Even if you have a small internal team for your IT operations, it may not be enough to keep up with your organization's needs. While you can certainly build out your internal IT team, it's faster (and easier) to ramp up your IT infrastructure by outsourcing IT operations.
Learn what information technology operations is, why you need it, and the 5 ways a partner can overhaul operations for you.
What are information technology operations?
Information technology operations cover all of the processes that make your IT team work efficiently. This includes all of the tools, processes, and services you use to make IT work for your business, too.
IT operations include any activities that your IT team (either internal or external) takes to set up, configure, or maintain your infrastructure, including:
Incident management
Access rights
Hardware maintenance
Cloud computing
Data backups
Server management
Application and software updates
Why do you need IT operations?
Information technology operations is important because it helps your business keep up with the pace of innovation. If it feels like your technology department is dealing with too many innovations, upgrades, or changes, you need a solid strategy in place to keep your IT operations running as smoothly as possible.
While you might try to handle IT operations internally, the problem is that technology changes too fast for a small team to keep up—especially if you lack the skills, time, or tools to manage everything. From high costs to maintenance issues, it can be difficult to manage your IT infrastructure.
IT operations is important because it affects every aspect of your business. Even if IT isn't your specialty, this isn't a task you can ignore. With solid information technology operations in place, you'll give your employees, customers, and vendors a better experience while preventing expensive issues like downtime or security breaches.
How a partner simplifies your IT operations support
IT operations are difficult and expensive to scale internally. If you need quick, expert support, it's a good idea to find a trusted IT partner to help you. An information technology operations partner simplifies your business in 5 ways so you can stay productive and profitable.
1 – Get the most out of the cloud
An IT operations partner can help you avoid time-consuming and expensive mistakes when you move to the cloud. This will help you reduce the total cost of ownership by removing legacy infrastructure.
With a simpler, faster, and more affordable setup, you'll see easy wins by switching to the cloud with an IT partner. Best of all, your partner will handle all of the cloud updates, maintenance, and infrastructure for you.
2 – Access advanced analytics
How many incidents are happening on your network? If you're running a technology department with just one person, it can be tough to fully understand your security posture.
When you partner with an IT operations professional, they provide analytics to show where incidents happen. Depending on your needs, a partner can even help you set up incident remediation. This way, your team doesn't have to be on call 24/7 to deal with a problem—your IT partner handles everything for you automatically.
3 – Tap a professional's planning expertise
Information technology operations isn't something you should improvise. An IT partner helps you figure out where you are today and create a roadmap to achieve your goals.
IT providers have decades of experience in designing IT infrastructure, so you can tap an expert's help immediately without the expense of hiring an employee. Avoid common pitfalls, identify your vulnerabilities, and design a stronger IT infrastructure with a professional's strategic expertise.
4 – Scale over time
You don't want your infrastructure to break down when you're trying to grow your business. Hiring IT operations support will keep you more agile as you add more users, applications, data, and features to your systems.
With the right IT operations partner, you'll only pay for what you actually use. They handle the maintenance and equipment, so you don't have to worry about paying out of pocket for hardware that will be out of date in 5 years.
5 – Enjoy better customer service and smoother upgrades
Your internal team might clock out at 5 pm, but IT operations support doesn't sleep. It's the best way to enjoy better service while minimizing downtime. This proactive approach helps you offer better support without the costs of a full-time employee, too.
Upgrades are also much easier with IT operations support. By arming you with the right technology, your IT partner will handle all of the tasks associated with upgrades so your team can focus on more mission-critical tasks.
It's time to simplify IT operations support
Modern problems require modern solutions. If you want to run a faster, more efficient business with lower costs, consider outsourcing your IT operations support. With an expert on your side, your small team can hit the ground running. See how Dice Communications' expert team can streamline your IT operations.