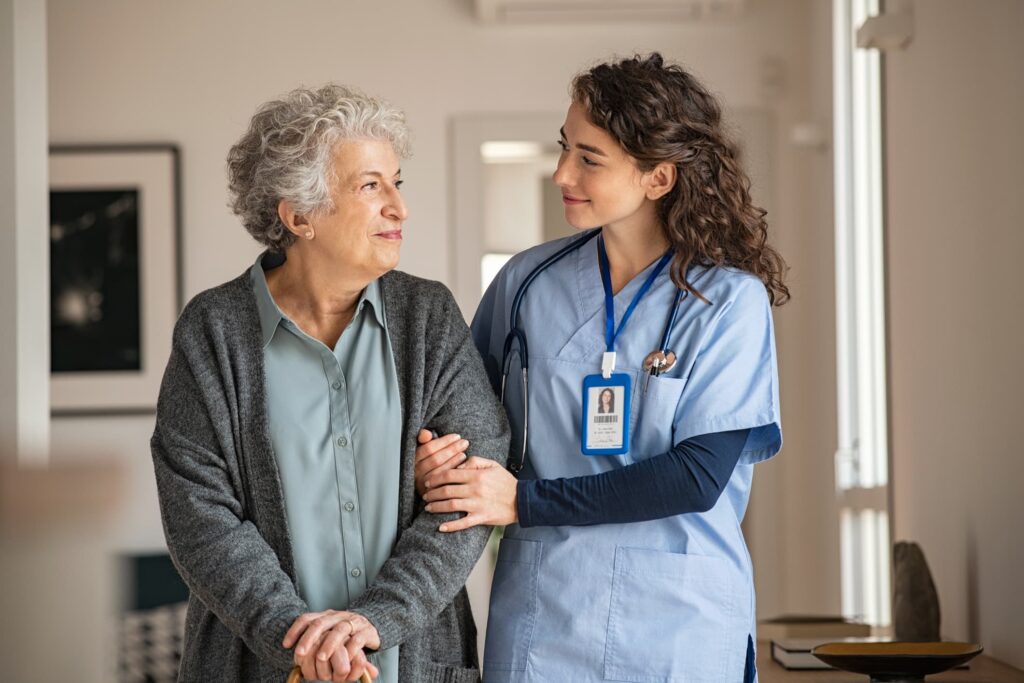 Do Nursing Homes Need a Managed Service Provider?
The United States' elder population is projected to double between 2018 and 2060.
With over 1.3 million residents in 15,600 nursing homes across the country today, it's never been more important to connect providers with patients and their families.
Communication can often be the determining factor for better health outcomes, especially in nursing homes. Thankfully, technology like VoIP makes it easier for nursing homes to stay connected with patients, providers, and families.
VoIP is simple to install and has the potential to revolutionize nursing homes' quality of care. Learn how to use VoIP for nursing homes and the benefits of implementing this technology in your business.
What is a VoIP system for nursing homes?
VoIP is a more modern way to deliver phone service to nursing homes. Traditionally, organizations would set up phone service with wired copper cables. To add a phone line, you had to buy hardware and pay for an electrician to run cables. This old setup tends to be expensive, clunky, and inefficient.
Voice over internet protocol, or VoIP, is a phone system that lives in the cloud. With this setup, nursing homes can make crisp, clear calls over the internet. Since VoIP lives in the cloud, nursing homes are able to glean more data with each call as well as integrate more features than a traditional phone system could provide.
Nursing home challenges
Although elder care is a necessity, nursing homes face plenty of challenges. Fortunately, technology makes it a cinch to solve these three common issues.
Power outages
Outages due to a storm or routine maintenance can derail a traditional phone system. But with VoIP, nursing homes can still make phone calls when the power goes out. This allows you to continue caring for the most vulnerable people in your nursing home by giving everyone a lifeline, 24/7.
IT assistance
Although some nursing homes have in-house technology specialists, it's uncommon for these organizations to staff a full-time IT department. This means that it can take ages to receive assistance when a traditional phone system goes down.
Meanwhile, the systems your staff and residents rely on aren't working—which can have a tremendous impact on patient outcomes. Fortunately, VoIP is based in the cloud. If it's necessary to troubleshoot an issue with the system, your VoIP provider can often do so remotely for faster fixes.
Communication issues
Communication is a challenge in any organization, but nursing homes have to keep track of a lot of moving parts. In the past, nursing homes had to rely on voicemail and paging systems to communicate with their staff.
With VoIP, nursing homes can communicate with everyone via mobile devices. By centralizing communications with a mobile-friendly setup, nursing homes can eliminate communication roadblocks and focus entirely on patients.
The benefits of VoIP for nursing homes
VoIP connects senior care residents with their providers, family, and emergency personnel in a more efficient way.
That's precisely what happened with Thomas Holt, a nonprofit elder care provider in Australia. Thomas Holt worked with Alcatel-Lucent Enterprise (ALE) to better integrate technology into its processes so it could improve the patient experience.
ALE used the OpenTouch Notification service to integrate Thomas Holt's nurse call system, entertainment, meal ordering, and more within its communications system.
As a result, Thomas Holt removed the burden of administrative tasks from its nurses, freeing them to spend more time with patients. With this mobile-friendly solution, Thomas Holt also enjoys better data analytics as well as 24/7 health status monitoring and real-time alerts.
This is the case for just one nursing home. Nursing homes that switch to a holistic communications setup with VoIP enjoy these four major benefits:
1. Flat fees
With a traditional phone system, nursing homes pay usage-based fees. That means passing the cost of phone calls back to the resident. No one likes fluctuating costs, which is why flat-rate solutions like VoIP are so valuable.
With a VoIP setup, nursing homes pay a flat, low fee for each subscription. There are no minutes to track, so the costs are much more predictable for everyone.
2. Additional features and integrations
Unlike VoIP, traditional phone systems can't easily integrate into your other software or platforms. But since VoIP is a digital solution, you can enjoy added features like:
Extensions that you can assign and unassign

Call forwarding

Voicemail email forwarding

Call recording
If you're using a customer relationship management (CRM) platform, VoIP for healthcare can integrate with your database. Record and log all calls in your CRM in a compliant setup that helps you better care for your residents.
3. Decrease costs
VoIP is significantly cheaper to install and maintain than traditional wired phone lines. There's no expensive copper cable to install or manage, either. You're free to upgrade and change as technology changes, which is a great way to future-proof your business while managing costs.
4. Stay compliant
Nursing homes are required to comply with a complex web of regulations. Did you know that your communications system needs to be compliant, too?
Depending on where you live, you likely will need to comply with Kari's Law and Ray Baum's Act. These laws require your phone system to:
Allow callers to dial 911 without a necessary prefix number

Alert administrators when a call has been placed to 911

Comply with e911

, which sends additional location data to emergency dispatchers
While you can do some of this with a traditional phone system, VoIP makes compliance as simple as the click of a button. As laws change over time, VoIP is flexible enough to keep up with requirements, too.
How can Dice help?
Seventy-five percent of nursing homes are short-staffed. They need additional support to better care for patients, and proper communication is the first step. Dice helps nursing homes deploy solutions, like Alcatel-Lucent Enterprise, throughout your facilities.
Dice looks at your property, processes, and needs to suggest VoIP solutions that are uniquely suited to your nursing home. Learn how Dice can help your nursing home install a complete VoIP solution.